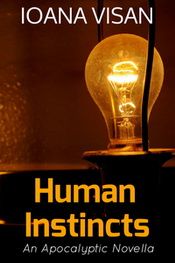 There's nothing better than a 5 stars review coming from a stranger to cheer up your day, especially when you're struggling to recover from a bad case of bronchitis just before going away on vacation and you're running out of time.
"
I was very impressed with the author's ability to develop a very interesting and logical apocalyptic scenario. I was impressed to a much greater degree when, in the author's bio, it was disclosed that she is Romanian, and she translated the book into English herself! One would expect to find typical grammatical errors as a result of the inherent differences between languages, but this book was perfectly translated as far as I could tell. The author has a remarkable talent, and presents a compelling story. I look forward to seeing her name on future books, knowing they will be well worth the time to read.
" (Read more on
Readers Favorite
.)
Yes! I am so happy someone commented on the language and gave it the thumbs up. :D Of course, a big thank you goes to my dear editors, but this gives me hope that it is possible to publish in English in spite of the language barrier and have fine results.
And now my fingers are itching to pull out my next story collection. Tee-hee! It's next on my to do list so it won't take long. :)
Human Instincts
is available on Amazon, Smashwords and other online stores. Check out the links in the right side bar.