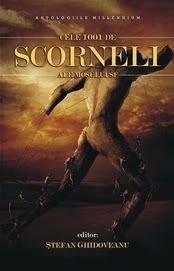 The Making of my story
"Defazaj"
, included in
"Cele 1001 de scorneli ale Mosului SF"
, has appeared in
Galileo Online
. Here's a rough translation:
Sometimes it happens that I write solely for myself. I don't sit in front of the pc thinking "this story would fit in this magazine" or "this story is for this anthology." In the absence of theme and size constraints, I write for my own enjoyment. This was the case with
"Defazaj" (Phase Shift or Head Hopping as this was the working title).
In the spring of 2011, I had just finished a zombie story and I had started working on "Adevarul din privire" (The Thruth in Their Sights) for Venus anthology, only that I didn't have a clear idea where I was going with it and there was plenty of time until the deadline in the summer. So I started to write something totally different.
The initial idea was based on a dialogue between two people, one of which had to be somehow controlled by the other one. I like to write dialogues, to see the conflict developing through an exchange of playful, snarky, wary, or hopeful lines. If I could get away with writing no description at all, I couldn't be any happier.
At one point, I considered introducing some aliens, but I resisted the impulse. I wanted the attention to be focused on the two lead characters and their interior conflict. I'm not saying more about the plot, meet Eddie and the presence investigating his mind and see for yourselves.
How the story ended up in "Cele 1001 de scorneli ale Mosului SF" (The SF Old Man's 1001 Inventions) is another story. In the begining of this year, Mr. Ghidoveanu had the amability to publish on his blog my story entitled "The Invasion", and at the time I thought that my contribution to the "inventions" was going to be limited to that. Only that he contacted me again in the spring and asked for another text for the printed edition of the "inventions".
All was nice and well, there was no word limit and no theme—exactly the way I liked it. I started writing and… it didn't work out. I started about three texts and they either didn't come together well or I didn't find them good enough for what I needed. I was working on several different projects at the time and I was quite stressed by the fact that I couldn't get it right.
Then I remembered about this one text I had saved for good keeping, one so dear to me that I couldn't find the heart to give it to anyone. It was like a huge weight was lifted off my shoulders. I knew the story was going to find a good home among the "inventions".