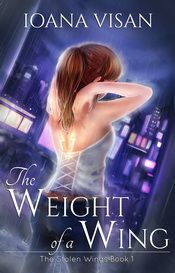 Yes, I know I said there would be no more free days for
The Weight of a Wing
, and still the book is be
free
to download on
Amazon
on October 7 - October 11.
How did this happen? Well, I blame it on being busy, distracted, and mostly fed up with Kindle Unlimited. June and July were great as far as KU borrows went, but then the borrows dropped to a quarter in August and became close to none in September. This makes no sense because: 1) the book was published in April so it wasn't new; 2) no negative reviews appeared; 3) I did the usual promotion on Facebook and Twitter without making any changes to my marketing strategy. Me thinks this game is rigged.
Anyway, back to the free days. I was fully intending to use the Kindle Countdown Deals feature this time around, but I didn't do my homework in time. It turns out you can't have a price change during the past 30 days before using Kindle Countdown Deals, and you can't use it if your book is priced at $0.99. You see my dilemma. Since the KDP Select term was coming to an end, I decided to change the price and used all the free days at once instead. Hopefully, it will have a positive effect on the KU borrows as well because it can't get much worse at this point.
So if you enjoy reading about wingless, vengeful fairies, chatty, handsome magic users, innocent humans, mysterious wizards, and manipulative bastards,
dig in
! And please help spread the word and leave a review when you can.