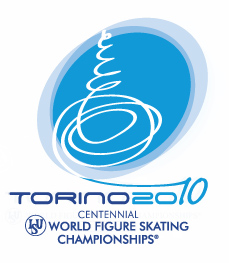 As usual, more or less random comments will follow regarding the last skating event of this season.
- It was nice to see the familiar interior of Palavela ice rink. It brought back good memories from 2005 Euros and 2006 Olys.
- the red flower arrangement from the kiss and cry looked interesting but also odd. That type of flowers is mainly used at funerals here. Anyways, the white flowers from Tallinn will be hard to beat.
- I missed listening to my favorite Romanian commentator, Cornel Gheorghe. In his absence, Florin Gafencu was pretty good at his job too. Yvonne Ghita was bloody annoying as usual and made tons of mistakes, but after all this time I've learned to tune her out.
- after not airing any of the Grand Prix events this season, Eurosport decided to air only the last two groups or so during Worlds, bu huuu! Since Romanian television adopted a similar schedule, I chose Eurosport for the added bonus of live interviews with the skaters in between programs. Maurizio Margalio and Barbara Fusar-Poli were just so so as presenters, but it would have been much better if Ms. Ghita hadn't tried to translate what they were saying. It was annoying more often than not.
- when Eurosport was too greedy to show skating I watched online a Swedish live feed so I didn't miss anything. I didn't understand a word from Swedish except for the names, but it was less tiring on the ears compared to Russian or Turkish.
- it was nice to see some skaters who have retired and now are working behind the boards.
- the camera work was bloody awful, with repeated show of either the upper half of lower half of the skaters' bodies.
- I liked the way they dressed the medal carrier girls in yellow, white and brown.
OK, on with the real comments...
Pairs
- it's not exactly my favorite discipline so I'll keep it short.
- Pang/Tong fully deserved the title. I liked then ever since the days when they still lack in expressivity and I was happy for them. Flirting didn't work out so well for Pang, but other than that everything was well done.
- I felt sorry for Savchenko/Szolkowy, it would have been nice for them to get a third title, but they made mistakes and they lost on their own hand. I'm curious if they keep competing after this season.
- I don't care much for Kavaguti/Smirnov, still it was unusual to see her fall and not just once but twice. It was like watching the strings of a puppet being cut off.
- I still have to see Mukhortova/Trankov perform a clean program, I think I've said this before, and now chances are I won't. The rumor is Maxim Trankov will skate with Tatiana Volosozhar starting with next season. I would love to see that!
- Zhang/Zhang were just so so. I didn't think I would ever get to say this, but she looks so cute with short hair.
- and I loved Jessica Dube's outfit for the FP.
Men
- something is very fishy in Danemark... no made that Torino... or better yet the ISU headquarters.
- COP changed a lot the skating world, but it's obviously out of balance. When it comes to skating, especially men, I want to see jumps. Good jumps. And last night it was a joke.
- I'm not contesting Takahashi's medal, he was wonderful and I loved every second of both of his programs. He showed what skating is all about, good solid jumps, he even tried a quad, and the artistry was there as well.
- it's not the same with Chan, though. His program might have been designed to get the highest score, but it looked utterly boring and half of the landings were shaky. For the life of me I can't understand how he got those high FP marks, if judging was fair and correct that shouldn't be allowed.
- I was thrilled for Joubert, after the disaster at the Olys getting the bronze at Worlds was great. He did two quads, but the rest of the programs was kinda empty and he lost speed towards the end. Yes, I know I complained about his choreography before, or lack of, so I guess the solution for him would be to hire Mrs. Nichol to design his programs for next season and then no one would get in his way.
- Brezina was like a breath of fresh air. His programs still have a junior feeling, but that can be corrected in time. He reminds me of Verner in his good times.
- Abbott doesn't do it for me, he has a nice skating flow, but that can't make up for the boring programs, they put me to sleep.
- Rippon is something to look forward too. I loved his jumps with arms held above his head.
- Contesti wasn't bad, unfortunately the programs were better than the way they were performed. He was better last season.
- Van Der Perren had the skate of his lifetime and I was so happy for him . He did a 4-3-3 and even managed the triple Axel, a joy to watch.
- I think I'm starting to like Schultheiss more than Berntsonn, he's turning into an interesting skater and he can deliver a clean program.
- Kozuka,Fernandez and Ten are skaters to look forward to in the future, and the same goes for Amodio, Pfeifer and possibly Voronov and and Kovalevski.
- other men I enjoyed watching but didn't remember seeing before were the Puerto Rican, Mexican and British guy.
Ice Dance
- I still find Virtue/Moir too boring for my taste.
- Davis/White are definitely my favorite couple this season, I loved both their OD and FD and I wished they had placed higher.
- Faielli/Scalli were OK, their style is slow and dramatic, but no ballet thank God!, and that can't be helped, but I kinda liked them more at Euros.
- watching Pechalat/Bourzat and the Kerrs felt like they were cheating a little reprising their last season FD and OD, but it was nice to watch them as usual.
- when Capellini/Lanote took the ice I was pleased to see she got rid of that awful black costume from the Euros only to realise at the end of their FD that the black one fit the theme better than the red cocktail dress.
- another couple I liked was Carron/Jones, particularly the OD, though the recycling of Delobel/Schoenfelder's old costume was a bad decision, especially for Worlds.
Ladies
- not much to say here, since their competition was too long and I tend to find them boring.
- top ten was interesting enough to watch, very few had clean skates, though.
- I liked the podium and I was happy for Asada, Kim and Lepisto.
Gala
- Brian Joubert rocked the house and his exhibition number was the highlight of the event for me.
- I claimed before that Chan was a boring skater and I got the confirmation I was right; Coldplay is one of the most boring bands I've ever heard.
- Pechalat/Bourzat were the other highlight for me, I love it when they are playful.
- the rest of the gala was a bit of a snooze.
And this concludes another great skating season. See you again in the fall!