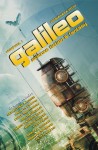 No
CititorSF
awards this year, but we get
Galileo Awards
instead. This is a brand new type of awards organized by the editors of
Galileo Magazine
. It has two categories: novel/story collection, and short stories published in magazines with ISSN (in print, electronic or on-line format).
The lists will be finalized at the end of next week. So far there are 11 novels and 72 short stories. This is going to be a tough one. The only voters are the subscribers of
Galileo Magazine
, which is meant to provide a fair voting, though it makes me wonder how many subscribers the magazine has.
It looks like three of my stories from 2010 are eligible:
An Elevator Apart
,
Bullets and Blood Symphony
,
In Lack of Time
.