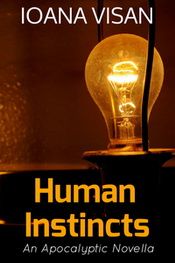 It feels so good to wake up to a 5 stars review in the morning. It's always a bit worrisome when someone who isn't familiar with your writing gets to read your stories. What if they don't like your style, the language, the characters, the plot? There are so many reason someone could not care for a book and struggle reading it just because they have to.
Well, this wasn't the case. The following comment made me especially proud:
"I was really surprised by this book. I'm always a little nervous with the whole Apocalyptic stuff, but it was surprisingly very good. The characters are well written, Deanna comes off as the kind of woman who made a mistake and is willing to risk it all to fix it. The story is face paced but full of entertainment, not a dull moment to be found. You're instantly drawn in, wanting to know more. I finished it in one sitting, because I just had to know. I loved the ending, it just left me with a smile and wanting more. I found it very unique, and full of twists and turns."
Read the full review on
The Reading Diaries
.
Human Instincts
is available on Amazon, Smashwords and other online stores. Check out the links in the right side bar.