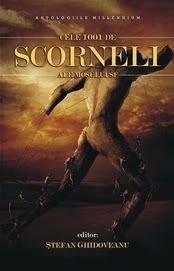 For my Romanian readers who are attending Gaudeamus International Book Fair in Bucharest this week, "Cele 1001 de scorneli ale Mosului SF" will have its official launch on Saturday, November 23, 13:30, at Editura Arthur's stand. Special guests are Stefan Ghidoveanu (editor) and Mihai-Dan Pavelescu. Some of the authors will be there too, unfortunately not me.
If you're going, I'm pretty sure you can get Steampunk, Dancing on Mars, and probably Venus too. That is if you don't have them already. :)
Happy book hunting!
Update
: Here's a video from the official book launch at Gaudeamus.