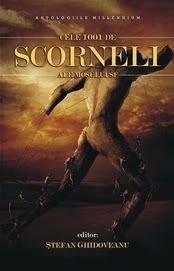 I kept waiting for the "
Making of
" of "
Cele 1001 de scorneli ale Mosului SF
" to be complete so I could post the
table of contents
, but with all the excitement I now realized that I forgot to do it. So here it is:
"Literatură şi internet sau Despre "scornelile" Moshului SF" by Ştefan Ghidoveanu
"Scrisoarea lui Mil Neajlov din Deveselu, către fratele său, Grigorie, din Craiova" by Adrian Buzdugan
"Mecanism de autoreglare" by Ciprian Mitoceanu
"Defazaj" by Ioana Vişan
"Golem, golem" by Liviu Radu
"Exilul" by Ştefana Czeller
"Spaţiul fazelor" by Cristian M. Teodorescu
"Metafagie" by Antuza Genescu
"Pedepsa" by Raluca Băceanu
"Povestea ultimului şoarece de bibliotecă" by George Lazăr
"Glonţul din creier, lumea din ochi" by Lucian-Vasile Szabo
"Întoarcerea vrăjitorului" by Ana-Veronica Mircea
"Glitcherine" by Michael Haulică
"Regina Nopţii" by Narcisa Stoica
"Albiliţa" by Marian Coman
"O noua casă" by Roxana Brînceanu
"Spiriduşii albi" by Oliviu Crâznic
"Făuritorul de vise" by Sergiu Someşan
"Cartea cu scoarţe de argint, ferecate" by Florin Pîtea
"Cititorul Alfa" by Cătălin Badea-Gheracostea
You can read about my story
here
.
Get the book at
Gaudeamus book fair
this weekend and don't miss the official launch on Saturday!