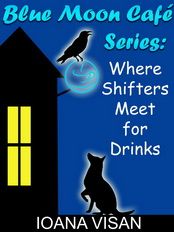 "I believe it would be particularly appropriate for the reluctant reader, who is sure to be surprised at how involved he becomes in the various short stories as well as the overall tale. I definitely recommend this book by the very talented Ioana Visan. I also urge you to keep an eye open for more books penned by her, as she is very capable of building an entertaining story." - Grampy
I particularly liked the first sentence because this is how I market this book: Shapeshifter stories for non-shapeshifter fans.
And the last sentence because... well... stay tuned! :)
Read the full review here.
Blue Moon Cafe Series: Where Shifters Meet for Drinks is available through Amazon, Amazon.uk, Amazon.fr, Amazon.de, Amazon.es, Amazon.it, Amazon.ca, Amazon.co.jp, iTunes, Kobo and Smashwords, for only $0.99 for a short period of time.