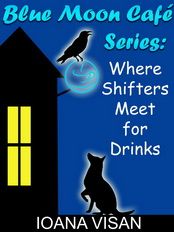 Readers' Favorite has a review of
Blue Moon Cafe Series: Where Shifters Meet for Drinks
:
"
There are plenty of humorous touches and lots of imagination in evidence in these quirky, tightly-plotted stories. There's romance, tension, craziness, suspense, and threat. Each story in the collection has a slightly different tone, from comedy in 'Once in a Blue Moon', with the added moral of 'be careful what you buy off someone in a bar', and tension and conflict in 'A Mutt Problem', to definite foreboding yet optimism in 'The Day We Shot the Moon out of the Sky'. The various characters are sparsely yet adequately portrayed. This author concentrates her writing energy where it matters most - in creating atmosphere and entertainment
." - Stephanie Dagg
Read the full review here.
Blue Moon Cafe Series: Where Shifters Meet for Drinks is available through Amazon, Amazon.uk, Amazon.fr, Amazon.de, Amazon.es, Amazon.it, Amazon.ca, Amazon.co.jp, iTunes, Kobo and Smashwords, for only $0.99 for a short period of time.