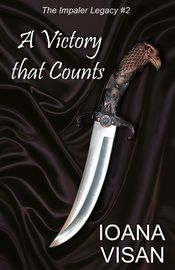 Everyone, rush to
LibraryThing
to request one of the copies of
A Victory that Counts (The Impaler Legacy #2)
that I'm offering in a giveaway. If the demand is big, I'll increased the number of copies. The deadline is September 3rd.
If you simply cannot wait until September and must have it
now
,
A Victory that Counts
is available through
Amazon
and
Smashwords
.
The Impaler's Revenge (The Impaler Legacy #1)
is still discounted to $0.99.