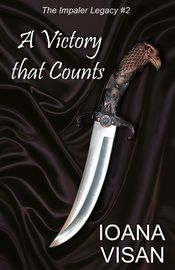 Yes, it's time, A Victory that Counts, the second novella in The Impaler Legacy series is here! It came out with a five day delay because I was away on vacation and I prefer to do all the work on my own pc, but it was worth the wait. You can download it from Amazon and Smashwords for now, but soon it will be available through other on-line stores too.
The writing process for A Victory that Counts was closer to how I usually write. For The Impaler's Revenge, I had had six months to plot it in advance so by the time I started writing it I had the whole plot figured out. I plotted A Victory that Counts while editing the final draft of The Impaler's Revenge, once I decided there was going to be a sequel. So I had only about a third of it clear inside my head when I started writing it. I thought I'd just write and see where the story takes me. It usually works, and it did this time too.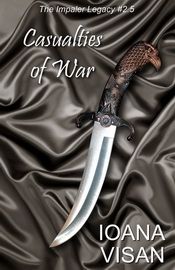 Like it happened with The Impaler's Revenge, A Victory that Counts also comes accompanied by a short story, Casualties of War, that is only available on my website, for free. As a reader, I can't stand cliffhangers at the end of a book. That's why I knew from the moment I got the idea while plotting A Victory that Counts that this couldn't be the last part of the novella. It had to be an independent story. You can skip Sweet Surrender, but reading The Impaler Legacy series without Casualties of War would make less sense. I apologize to Jesse's fans in advance, and I promise things will get much worse in Order Restored, tee-hee!
So now we have two novellas from
The Impaler Legacy
series out. There's one more left to go. The third draft is done, and I'll be sending it to my editors in September, so it should be ready by December. Until then, keep your fingers crossed for Liana, Jesse, and Max. :)
If you're not familiar with them yet, you might like to know that
The Impaler's Revenge
is on sale on
Amazon
to celebrate the release of
A Victory that Counts
.