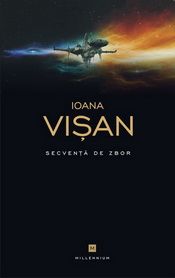 Secvenţă de zbor Table of Contents
Plimbarea de dimineaţă a Domnişoarei Vu
Adevărul din privire
Punct de rendez-vous la +3000
Ucigaşul de dragoni
Defazaj
Sufletele arborilor
Noapte bună, Mihai!
Dacă aerul n-ar avea miros
Secvenţă de zbor
Arde-mi-ar sufletul in iad, Doamne!
Iluminare
Jumatătea lipsă
Visul broscoiului
Niciun port din galaxie
Secventa de zbor
(
Flight Sequence
) - 14 stories published or submitted to Romanian anthologies, including various themes and genres like sci fi, fantasy, steampunk, time travel, dragons, mind control, zombies, parallel universes, aliens, cyberpunk, and space opera.
The book is available on Millennium Books
website
.