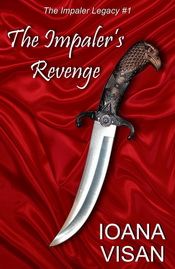 The Impaler's Revenge (The Impaler Legacy #1), the vampire novella I kept telling you about, is now available through Amazon and Smashwords and soon it will be available on other on-line stores too.
In the fall of 2011, I got sick with a bad cold and for a week, I was unable to do anything beside reading. I knew from the start that it was going to be a long recovery so I picked a series that was supposed to keep me busy for a while. It happened to deal with vampires.
While I enjoy my fanged friends like anyone else, I'm more than a little offended to see everyone associating them with Transylvania and especially Vlad

Ţepeş

. Thank you, Mr. Stoker! Not. I guess my issue with vampires started back in my childhood when I was recovering after a surgery in France. The physical therapist came to check on me, and seeing that I was having a transfusion, he quipped, "Oh, you're from Romania. I see you're having breakfast," and pointed at the blood bag. I was this close to reply "Yeah, and you're next!"
This put aside, after finishing reading the series, I started thinking about how I would write a vampire story, considering that I had never written anything of that sort. And you know, someone had to defend

Ţ

epe

ş

's honor. He used to be a great king, even if a strict one, and people had turned him into such a joke. I plotted the story over the summer and wrote it the following fall. So this is my answer to all the vampire stories out there, 'a story like no other' as the tagline says.
The novella comes accompanied by a bonus story Sweet Surrender (The Impaler Legacy #1.5) that is only available on my website.
When I finished writing the first draft of The Impaler's Revenge, I had no plans for a sequel, but I was not ready to let go of the characters yet. I had spent half a year socializing with them and becoming close friends so as I typed 'The End' I was already starting to miss them. But it turned out it didn't have to be the end of our adventures together.
After finishing reading the draft, a friend told me "You have to write what happened between Liana and Jesse. You can't leave it like that! You've tortured them enough." I whined about how it would be just fluff and no one would be interested in reading it, and the reaction was "Just write it already!"
So the next Friday, I sat down at the computer and realized that it wasn't just fluff like I had feared, there were real issues that needed to be discussed. I finished the story in one sitting and, when I was done, my first thought was "Damn! Now I need to find out what happened in New Zealand!"
For those of you worrying about starting a new series, know that I have the first draft of the second novella written down and I'm already plotting the third one. Hopefully, the entire series will be published by the end of th

e year.
I hope you'll like my own version of vampire stories. Check out the purchase links at the top of the post and in the right side bar. Enjo

y!