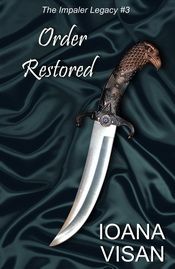 The third novella in
The Impaler Legacy
series,
Order Restored
, is finally here, just in time for the winter holidays. Sorry, but this time you won't get a free bonus story. Maybe some other time.
Oddly enough,
Order Restored
required no plotting in advance. When I finished writing
A Victory that Counts
, I only knew the opening scene from the sequel and it was enough. The main goals were to save Jesse, deal with the new breeds, and figure out what to do with Max. If you're reading
Order Restored
, you'll find out what solutions I came up with. I will miss these characters, but they earned their right to rest. There are other stories waiting to be told. See you in the next book!
Order Restored (The Impaler Legacy #3)
is available through
Amazon
and
Smashwords
, and soon through other stores too. To celebrate its release, the Amazon price will be lowered to $0.99 between December 2 and 15 so hurry and get it while it's still hot!
The
website
got a new layout to celebrate the new release so you might like to stop by too.