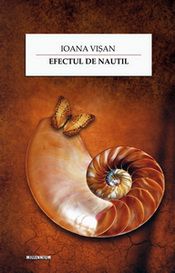 The good news keep on coming.
"Efectul de nautil"
(The Nautilus Effect) was
nominated
in the
Best Sci Fi Short Story Collection
category at
COLIN Awards 2014
.
Here are all of the nominees in this category:
Costi Gurgu, Cronici de la capătul Pământului, 2011
Ana-Veronica Mircea, Floarea de loldilal, 2012
Marian Truţă, A doua venire, 2013
Ioana Vişan, Efectul de nautil, 2013
I'm honored to find myself in such distinguished company and a bit surprised to see my little nautilus get this far. It turns out my little nautilus is not just any nautilus after all.
Many thanks go to Michael Haulica who urged me to put this collection together, to Horia Ursu for publishing it, and to the members of the jury who nominated it. It made an already sunny day even brighter.
If you don't have it already, you can find
"Efectul de nautil" here.