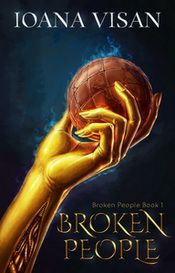 Broken People
is out! Hurry up and read the preview sample
here
. :) And now for the story behind the story...
After I finished writing
The Impaler Legacy
series, I felt it was time to return to my first love, science fiction. When I visited Bratislava a few years ago, I very much enjoyed the old city, and I wanted to write a story that had the action taking place there. I had this image of a man standing in the window of an old building, watching a woman in a building across the street. I wondered what he was doing there so, between other projects, I started plotting on and off.
It felt like a cool idea, so I decided to make it my NaNo project. Now, my idea of NaNo is a bit different than what everyone else is doing. When I'm working on a story, I usually write 1,000 words per day, except for the weekends. For NaNo, I wrote during the weekends, too. It was tough, but at the end of November, I had 30,000 words written … and I was only half-way into the story. What initially had been planned to be only a novella had turned into a novel.
For a long time, the story was called "With a Flick of the Wrist", like Queen's song, which could serve as soundtrack. However, in the end, it became clear the story wasn't about a trick but about the people in it. Writing each individual story felt like the next natural step, so if you fell in love with Broken People and don't want to let go of them just yet, you might want to check out The Nightingale Circus. It's a short story collection revealing how the main characters came to be in the circus and why they stayed. It will be released soon, too.
Broken People
is available exclusively via
Amazon
for the time being, and it's free for Kindle Unlimited subscribers. If you read it, please take the time to leave a review on Amazon and GoodReads. Thank you.