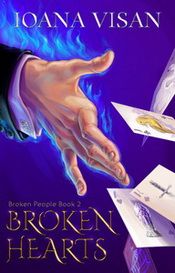 Did you miss Aurore, Dale, Nicholas, Cielo, and the whole The Nightingale Circus gang? Want to know more about their adventures? Well, you're in luck! Broken Hearts, the second novel in the Broken People series, has just been released today.
Just like in the case of
The Impaler Legacy
series, when I started writing
Broken People
, I didn't do it having a series in mind. By the time I finished the novel, however, I was left with the feeling there were more stories waiting to be told. Once I decided to write those stories, it became clear this was also going to be a trilogy, and I knew exactly about what events each book was going to focus.
Then it was only a matter of finding the time to do it. I started working on
Broken Hearts
in the beginning of February, finishing the first draft in the beginning of May. It took three months and it was the easiest writing I've done so far. Everything flowed easily. I knew the world and the characters. The hardest part was hurting them but, of course, that didn't stop me.
The writing process was a little different than usual as I first wrote the parts with the circus, and then went back and described Aurore's and Dale's adventures up to the point of meeting with the circus. I had to put all the scenes together like a puzzle before continuing with the story, but it all worked out in the end.
Broken Hearts
is available exclusively via
Amazon
and free for Kindle Unlimited subscribers for the next three months. There will be no free days. After that, it will become available through the other usual channels. Once you read it, please take the time to leave a review on Amazon and GoodReads.
Until then, you can help spread the word about the new release:
Add
the book to your to-read shelf on
GoodReads
.
Tweet
about the new release on
Twitter
.