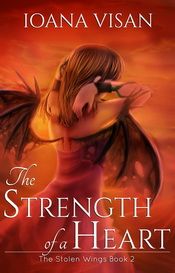 February was a busy month. I got
The Strength of a Heart
to the final draft and went through the first round of edits sent by my editor. The book is already available to pre-order on
Amazon
with a release date set to March 15.
I finally wrote the second story in The Devil You Know series. It will be released at the same date with The Strength of a Heart, on March 15.
I also wrote a commissioned short story for a Romanian magazine. It will be published in the upcoming issue, I think. More details then.
If you missed the story published in Argos magazine, it's
here
.
And last but not least, I translated The Impaler's Revenge into Romanian. It still needs a bit of polishing, but most of the work is done. The plan is to have all three novellas translated before the summer vacation, and then I'll start looking for a publisher.
In March, I'll start working on a new sci fi novel, The Chasm. Most of the plot is done so I don't expect any problems on the way. And maybe I'll write a short story for a Romanian anthology, too. Not sure, we'll see.
Until then, watch this space next week for two cover reveals and a big announcement. :)