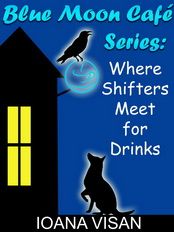 It's been exactly six months since I self-published my apocalyptic novella "Human Instincts", and now it's time to make another ebook available for my readers:
Blue Moon Café Series: Where Shifters Meet for Drinks
This story collection started with a challenge in the spring-summer of 2010. The theme of the new contest launched by AtelierKult, a writing workshop I've been a member of for the past few years, was based on werecreatures. Since I'm not a big fan of shapeshifters, my knowledge in this field was limited when I began writing, which allowed me to develop a world based on my own set of rules.
I finished up with three full stories and two half-written ones, all set in the same universe. I didn't submit any for the contest, mainly because I had written them in English from the start, but also because they didn't feel right at the time.
Once I decided to turn them into a story collection, I finished the other two stories in the fall and added two shorts as introduction and epilogue. And there you have it, the collection was complete.
Blue Moon Café Series: Where Shifters Meet for Drinks
is now available through
Amazon
and
Smashwords
, and soon through other online stores too, at the discounted price of $0.99. After the holidays, the price will go up to $2.99. As further incentive, the first 25 readers who write a honest review about it will be entitled to a free copy of "The Impaler's Revenge" when it comes out. All you have to do is ask.
Happy reading!