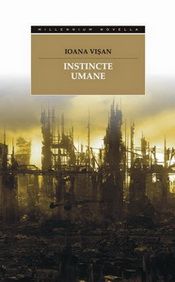 Bookfest (international book fair) is taking place this weekend in Bucharest.
Two events are particularly important as far as I'm concerned:
"Instincte umane"
-
Millenniun Books launch
- Saturday, June 1st, at 16:30, at Art/Paladin stand.
"Calatorii in timp"
-
Nemira launch
- Sunday, June 2nd, at 14:30.
I won't be there, but that doesn't mean you can't go and buy some books. Aside from those mentioned above, I also recommend you the following (all from Millennium Books):
"
Efectul de nautil
" by Ioana Visan
"
Zombii: Cartea mortilor vii
" edited by Mircea Pricajan
"
Cele 1001 de scorneli ale Mosului SF
" edited by Stefan Ghidoveanu
"
Steampunk: A doua revolutie
" edited by Adrian Craciun
"
Dansand pe Marte si alte povestiri fantastice
" edited by Michael Haulica
Update:
Here's a
video from the book launch
courtesy of Assassin CG.