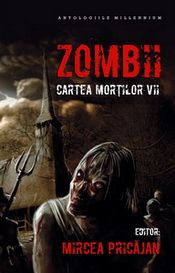 May 1st also brought a review of "
Zombii. Cartea mortilor vii
" on
Subtext.ro
. Radu Romaniuc said:
"Ioana Vișan, una dintre cele mai ambițioase scriitoare implicate în self-publishing, cu mai multe volume în librăria electronică a Amazonului, scrie literatură pop într-o proză alertă, sigură. Noapte bună, Mihai, urmărește un grup de prieteni dintr-o așezare de provincie, care încearcă să recupereze o bătrână rătăcită noaptea pe coclauri. Se pare că e greu să recuperezi băbuțe în vremuri de zombi:
" (followed by a quote)
In the end, Radu said that he tried to keep his tongue in check because Millennium Books' anthology project is an initiative that deserves to be supported and not put down. I liked that.