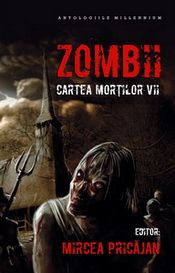 A new review of "
Zombii. Cartea mortilor vii
" appeared in the May issue of Nautilus Magazine. This is what Mr. Radu has to say about my story "Noapte buna, Mihai!":
"Ioana Vișan – Noapte bună, Mihai! Nu cunoșteam textul, apărut inițial pe AtelierKult. Unul dintre cele câteva texte extraordinare din antologie. Povestea este bine localizată, cea a Laurei Călin era în mediul urban, asta e în cel rural, dar amândouă au o încărcătură emoțională impresionantă.
" - Liviu Radu in Nautilus
Dunno why but I get ridiculously happy each time Mr. Radu enjoys one of my stories. So this month has started well.