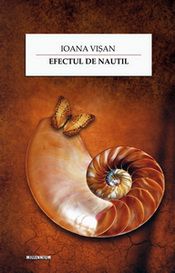 Big grin and all that stuff after reading Catalin Badea-Gheracostea review of "
Efectul de nautil
" in
Observator cultural
.
I don't know if my book qualifies as
The
debut of 2013 in the Romanian sci fi and fantasy prose, like he says, it's not for me to make such statement, but it surely tickles my ego a little. Okay, a little more. :)
I especially liked the way he identified the three main characteristics of my prose: the adventurous vibe (my characters usually struggle to accomplish something, the prose is not just a mixture of ideas put together), the couple (no matter how hard I try, I guess I'm still a romantic at hart, but hey, don't tell anyone!), and the happy-ending. I don't think I've ever written a story that ended badly--optimism is the way to go for me.
I hope this article will make my Romanian readers curious to give "
Efectul de nautil
" a try, and while they're at it, they can pick up "
Instincte umane
" too.