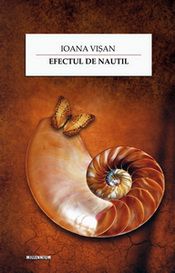 June seems to be the month when I tend to go astray as in I publish stories in unusual (for me) places. Looking at my published story log, I realized that over the past few years the stories submitted to SFera Online, EgoPhobia, and Gazeta SF appeared online in the month of June. This year it's SRSFF Magazine's turn to host one of my stories. Please read "
Rivalitate
" and enjoy.
In the same issue of SRSFF Magazine (no. 5, June, 2013), Antuza Genescu writes a
fabulous review
of my sci fi and fantasy short story collection "
Efectul de nautil
". All I can say is I also hope I won't run out of ideas or steam any time soon. As for style, I think I'm pretty close to finding mine, but you know I get bored writing the same thing all the time and now and then I feel the need to write something different. And Science rulez! :)
P.S. I'm happy Mrs. Genescu mentioned "Cine a incurcat borcanele?". I was curious to see the readers' reaction to this story in particular since I had such a laugh writing it.
Later edit
: Taking a look on H.G. Wells - Science Fiction Society website, I noticed they had a reading of "Efectul de nautil" on June 15. That's nice. I wonder what the audience thought about it.