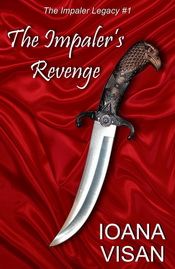 Two new reviews of
The Impaler's Revenge
show that people are warming up to the story. I'm always happy when they enjoy my writing:
"I've read Ioana's works before and enjoyed them. She usually has a different take on the paranormal, so I was interested to see where she would go with vampires. [...] Ioana has built a complex and riveting world..."
-
Wendy L. Hines
"She gives us the information about her world on a need to know basis.
[...] This is good world building. I know enough to understand this world but I have not gone through big, long explanations.
" -

Sheila Gallagher
Opinions on how Liana vary:
"Liana is a bit boring, to be honest. I wish she had a bit more rebellion in her to liven things up."
-
Wendy L. Hines
"I like Liana. She is not haughty nor is she a kick-ass broad. She is somewhere in between and that makes her likable. She is also aware of the power and prestige of her position on the Little Council. She can do much."
-
Sheila Gallagher
Everyone likes Max, though:
"Now Max is another story - he definitely is the star of this first installment of a new series
..." -

Wendy L. Hines
"I also liked Maximilien (do not call him Max.) He knows what is at stake but will not tell Liana until he realizes that they do not have much time if they are to avert a world-wide crisis.
" -

Sheila Gallagher
In the end, what satisfies me more is that they are all looking forward to read some more:
"

I really started to enjoy the dynamics about half way through and look forward to another book in this series.
" -

Wendy L. Hines
"

I am anxious to see what happens next.
" -

Sheila Gallagher
Well, I can only hope the sequel won't disappoint my readers.
Read the full reviews here and here.
The Impaler's Revenge is available on Amazon, Barnes & Noble, iTunes, Kobo, Sony, and Smashwords.