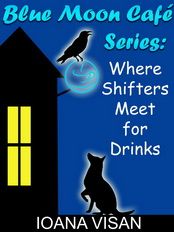 December is a terrible time to publish a book, especially a self-published one. People are busy with preparations for the holidays, and there are good chances for the book to pass unnoticed. I was fully aware of the problem when I published
Blue Moon Cafe Series: Where Shifters Meet for Drinks
, but since for various reasons it hadn't been ready for Halloween and I wanted to have another title published last year, I did it anyway.
First review appeared on Amazon already:
"I enjoyed this book and found myself reading it through the night. I loved the characters and even laughed a few times. The stories were well put together, so we were able to follow without confusion. Everything was described really well and I was sad when it ended. If you want something interesting, give it a try. You won't be disappointed
." -
Bec Botefuhr
Me happy. I hardly did any promotion for the book because of the same reason listed above, but I guess now it's time to get moving and change that.
Blue Moon Cafe Series: Where Shifters Meet for Drinks
is available through
Amazon
,
Amazon.uk
,
Amazon.fr
,
Amazon.de
,
Amazon.es
,
Amazon.it
,
Amazon.ca
,
Amazon.co.jp
,
iTunes
,
Kobo
and
Smashwords
, for only $0.99 for a short period of time.