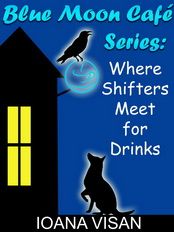 A new day and a new review for
Blue Moon Cafe Series: Where Shifters Meet for Drinks
:
"
Since I personally am not much into the shifters lore, I must confess her stories were a delight, making me want to read more of her fiction. I would recommend this collection for all those who are looking for something completely different, as in concepts and imagery
." - Andreea Sterea
I quoted only the last paragraph because it's the perfect description of the book: shapeshifter stories for non-shapeshifter fans.
Read the full review on
GoodReads
.
Blue Moon Cafe Series: Where Shifters Meet for Drinks
is available through
Amazon
,
Amazon.uk
,
Amazon.fr
,
Amazon.de
,
Amazon.es
,
Amazon.it
,
Amazon.ca
,
Amazon.co.jp
,
iTunes
,
Kobo
and
Smashwords
, for only $0.99 for a short period of time.