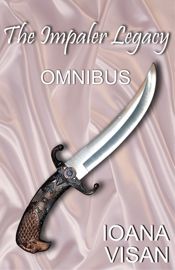 It's been a year since
The Impaler Legacy Omnibus
was released. Since then, it's been part of a blog tour, received positive reviews, and it's been re-edited in January when my budget finally allowed it.
While the novellas and short stories included in the omnibus edition were first published separately, together they can be read as a stand alone novel. This was my first big self-published book, and after spending a whole year in the company of these characters, they will always hold a special place in my heart.
Yes, it's a book about vampires, but before you turn up your nose and move on know that there are no vampires in Romania, there's no Dracula, and the heroine doesn't fall in love with a vampire. This is not paranormal romance, YA, or erotica. It's a political thriller with vampires. Intrigued yet?
To celebrate the one year anniversary, I'm not dropping the price, but I'm offering you the chance to win free copies in a giveaway. Well, two giveaways actually. One is here on the blog, and you can enter it via the form below. The other one is taking place on
BookLikes
where you can find the book listed in the Paranormal/Fantasy/Action and Adventure categories. Both giveaways will be open until the end of March. Good luck!
a Rafflecopter giveaway