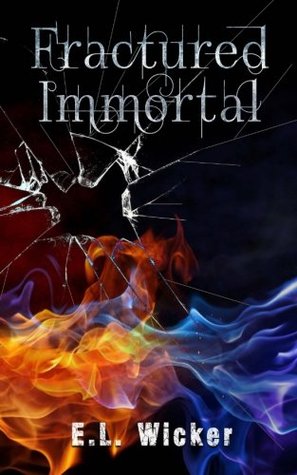 Guest post by E.L. Wicker
Beginning a new book is hard. Figuring out where to begin can be one of the most difficult parts of the process. For me, it all began when I listened to a song and my head conjured up a scene deep in the forest of two people meeting for the first time. The idea intrigued me, more so than others that I had, and though I ignored it at first, it stewed away in my brain, growing to become something that I just needed to write down. Months passed, but eventually I put pen to paper and Fractured Immortal was born. I wanted to weave a tale of love, layer it with a heavy dose of vengeance and pain, add a dash of jealousy and a whole heap of secrecy, that was my recipe. It slow baked for a long, long time, but with each passing day it rose higher, nearing completion until finally, it was done.
This brings me to my struggles while writing. It is in no way an easy process. So often when people ask me what I do and I reply that I'm an author, I'm met with—I should write a book. Have at it. I guarantee, it's not as easy as people think. There are so many bumps along the way, too many to fit into one guest post, but suffice to say, writers block, manuscript loathing and itty bitty torn up pieces of paper hampered my journey. Yeah, I struggled. All writers do. But it was worth every bead of sweat and every salty tear, because the most satisfying moment for me, was when it had been through its final editing stage and it was complete.
On my laptop, I had a final version of Fractured Immortal, a story about a female vampire, Ilia Rose, hell bent on revenge who becomes slowly unraveled by another vampire—one who should be her enemy, but really doesn't behave like it. As the two begin to know each other better, his secrets explode in Ilia's face, pitting her against a force she's unequipped to deal with. The story focuses a lot on enduring friendships. Ilia's friends come together to fight alongside her. Strength in numbers!
There are so many vampire books out there, that bringing something new to the genre was always going to be difficult. Recently I had a conversation with my critique partners where we discussed my characters. Each vampire in my book maintains a strong hold on their humanity. There are as close to human as they can bring themselves. They worry about each other's feelings, fall in love, fall apart and forgive when the need arises. The book is in no way flowery though, there's violence and death, but there's also a strong sense of love from all of the characters. What they all mean to each other, everything they've endured, served to eventually make them stronger. Telling that tale is what I wanted to accomplish, and I think I did.
No writer should go into the business thinking they're going to become a gazillionaire. It's unlikely, and if that's the attitude going in, failure will burn them. The vast majority of writers love the craft, for many it's a compulsion. So all I wanted to accomplish was to get the story written and I won't deny that I hoped with all my heart, that at least one person would love it as much as I do.
That's pretty much the low down on my process. Looking back, it was a lot of fun. I did have bad days, but hey—pushing on through is what makes us writers.