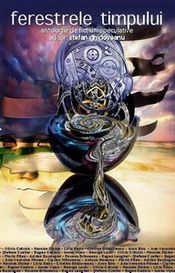 When I received Mr. Ghidoveanu's invitation to write for his time travel anthology,
"Ferestrele timpului"
,
I had recently finished another time travel story for
"Calatorii in timp"
, the SRSFF anthology that ended up being published by Nemira (read more about it
here
).
After the fun romp in Barcelona's streets, as
"Punct the rendez-vous la cota +3000"
turned out to be, I felt like writing something different, grittier, and with higher stakes. I had been toying with this idea for a couple of years, ever since reading Cherie Priest's Boneshaker. What if there was a person able to resist a poisonous gas that could kill everyone else? What would he do with his ability, and why was he this way? These are the questions I'm trying to answer in "
Daca aerul n-ar avea miros
" (If The Air Had No Scent).
Half way through it, I got blocked thinking there wasn't enough time travel in the story. But then I told myself my readers are smarter than that. Believe me, there
is
plenty of time travel in the story, you just need to pay attention. Oh, and there are also some aliens I had to threaten with selling just to make them behave, tee-hee!
"Ferestrele timpului"
(The Windows of Time) was published by Tracus Arte, and the official launch is scheduled for today at Gaudeamus book fair in Bucharest.