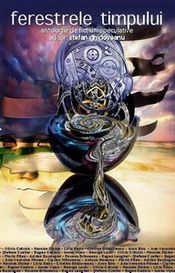 Gaudeamus International Bookfair is taking place in Bucharest this weekend.
The new release that interests me is
"Ferestrele timpului"
, editor Stefan Ghidoveanu, Tracus Arte, November, 2013. It includes my short story
"Dacă aerul n-ar avea miros"
. The official launch is scheduled for Sunday, November 24, 15:00.
As usual, I won't be there, but that doesn't mean you can't go and buy some books. Aside from the one mentioned above, I also recommend you the following:
"Instincte umane", Ioana Visan, Millennium Books, May 2013
"Efectul de nautil", Ioana Visan, Millennium Books, March 2013
"Călătorii in timp. Antologie de povestiri SF", editor Antuza Genescu, Nemira, March, 2013
"Zombii: Cartea morţilor vii", editor Mircea Pricăjan, Millennium Books, March, 2013
"Cele 1001 de scorneli ale Mosului SF"
, editor Stefan Ghidoveanu, Millennium Books, November, 2012
"Venus – povestiri erotice science fiction"
, editor Antuza Genescu, Eagle House Publishing, November, 2011
"Steampunk: A doua revoluţie"
, editor Adrian Crăciun, Millennium Books, March, 2011
"Dansând pe Marte şi alte povestiri fantastice"
, editor Michael Haulică, Millennium Press, November, 2009