Some of you might wonder if I still write Romanian short stories now that I seem to be so busy with publishing English ebooks. The short answer is yes. The long answer is a little more complicated.
Almost a year ago, I wrote a short story and submitted it to "
Revista de povestiri
" (Short Story Magazine - it's a printed magazine or it used to be until recently). The story was accepted for publication, but there was a waiting line since they received many submissions so... I waited. Until last month when they announced the magazine was forced to discontinue its publication because of lack of funds. O-kay. This left me with a cute little story I didn't quite know what to do with. You might be tempted to think that's not a problem since stories don't ask to be fed, but the thing is stories are written to be read.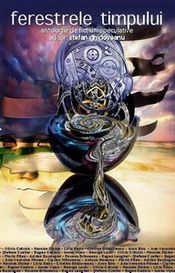 About the same time, a new on-line fiction magazine was created,
Fictiuni.ro
run by Eugen Lengel. The first issue looked good, and I was already considering writing something for it when my little story became homeless. Well, it's not homeless anymore. You can read it in issue no. 2, November, 2013, of
Fictiuni.ro
:
Nu-mi călca pe Umbră, doar…
The issue also includes
an article by Stefan Ghidoveanu
in which he talks about "
Ferestrele timpului
" (Windows of Time) and what it takes to make an anthology.
From
Mr. Ghidoveanu's blog
we find out that "
Ferestrele timpului
" will be launched at 15:00 on Sunday, November 24, at Gaudeamus book fair in Bucharest.