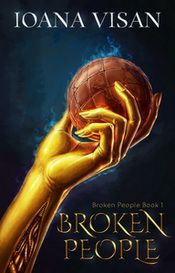 Granted, this could have used better planning, but I decided to make Broken People free for two days for Christmas only the weekend before that. I wanted to give my readers a present, and if other people downloaded it, even better.
Since the time was short and the book had been released for only a month and didn't have that many reviews yet, I didn't bother with well-known promo sites that do paid promotions. I only sent the dates to a dozen of sites and blogs that feature free ebooks, and a few bloggers I had collaborated with before. I informed my newsletter subscribers, created a Goodreads event and invited my Goodreads friends, announced it on my blog and social media. And then I sat back and waited.
During the two days of the free promotion, December 25 and 26, I was very active on Facebook and Twitter, reminding people the book was free and keeping them updated with the climbing in ranks. Once per day, I posted in several Facebook book related groups, announcing the free dates. And I kept refreshing the sales dashboard page to see the download numbers increase.
At the end of the promotion, there were 700 downloads in US and 800 over all Amazon sites, bringing Broken People to #600 Free in Kindle Store. It reached #2 in Cyberpunk in US and stayed there for a while, and it entered top 10 in several categories on all of the other Amazon sites that had downloads. Spain, Italy, The Netherlands, and Mexico had none, but Japan, India, and Brazil did for the first time ever. It was nice to see my Canadian and Australian readers again; they're always so prompt at downloading whenever I release something new. Germany's reaction was surprising because I never had many sales there and now it beat UK by far. I did expect more downloads in UK, but it didn't happen. Shrug.
It was nice to see the free downloads being accompanied by some sales, particularly for the other book in the series, The Nightingale Circus, but other titles too.
It remains to be seen how this whole experiment with free downloads will affect future sales. If nothing else, it will be like a major LibraryThing giveaway which might or might not bring more reviews in time. Hopefully, it will. And also hopefully, those who actually read the book might discover they like it and turn into dedicated readers. I'd be happy with that.
Oh, what did I tell you? There are two new reviews already, and they are great. :)
"Broken People by Romanian author Ioana Visan is cutting edge science fiction, with a thread of mystery and suspense running throughout. Visan does a great job of creating characters who readers can relate to, and situations that, though science fiction, seem real. Broken People is more than science fiction – it's a commentary on society's treatment of those who are different, and how they cope with it.
You don't have to be a sci-fi fan to enjoy this book."
-
Charles A. Ray "Geronimo"
Yes, this is exactly what I want my readers to think after reading this book!
"Keep going, Ioana, you just made me curious about The Nightingale Circus's further adventures. Maybe a war story with the Japanese robot army!
"
-
Liviu Szoke
He he, patience, my friend, we have to get them there first. ;)