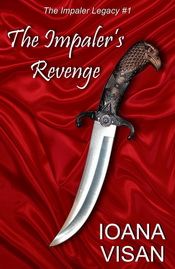 A year ago, the last novella in
The Impaler Legacy
series,
Order Restored
, was being released. To celebrate this and bring more attention to the series, I'm starting a new experiment. I'm going to serialize the first novella,
The Impaler's Revenge
, on
Wattpad
. So, yes, you will be able to read it for free, provided you have enough patience to wait for each installment. New chapters will be posted on Monday, Wednesday, and Friday.
The goal is to get more readers interested in the series, especially those who aren't so sure they want to read yet another story about vampires. But this story is different. It's a political thriller with vampires, no YA, no erotica, no paranormal romance. So give it a try.
If you don't like to wait,
The Impaler's Revenge
is available on
Amazon
for only $0.99. Or you can get the
omnibus edition
, which includes the entire The Impaler Legacy series. Your call.
Either way, start reading
here
.