This was my third year as an indie writer. I had two big releases in 2014, The Impaler Legacy Omnibus in March, and Broken People in November, followed shortly by The Nightingale Circus in December. Let's study each case separately.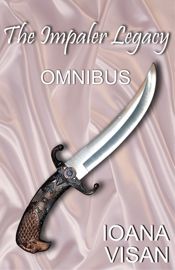 The Impaler Legacy Omnibus included all three novellas and two short stories in the series, plus one bonus short story, The Third Wheel, which was also released as a free short story for those who had already bought the series.
To promote the release,
Alina
organized a
blog tour
for the omnibus edition. I'm afraid I drove her crazy with my control freak tendencies and need to know everything every single day. The blog tour took place over one week in April and included 40 blog stops on various book blogs, featuring reviews, interviews, character interviews, guest posts, and spotlight posts. I was hoping for more reviews, considering the amount of work we put into it, but the ones I got were favorable ones. Still, I didn't see the spike in sales such tour would make you expect. Instead of the omnibus suddenly becoming my best-seller, the other installments in the series sold more than usual.
For the omnibus, I also released a
print edition
via CreateSpace. It took a while to figure out the interior layout and the cover requirements, and after that it took even longer for the proof copy to get here, but once it arrived, it looked good and only required some minor tweaking to finalize it. The good part was that I gained confidence in my skills and started offering
book formatting services
to other indie writers.
I probably should have promoted the omnibus more, but I was already working on a new novel and kind of skipped that part. The sales spiked again in October when I announced the price would go up from $3.99 to $4.99. The novellas kept selling all through the summer, and some people even bought the $0.99 short stories that were free everywhere but on Amazon.
When nothing else sold,
Blue Moon Café Series
still did despite being a short story collection and me doing no promotion at all. I should write more paranormal; unfortunately, it's not exactly my thing. However, I took pity on the little book and invested in a
professional cover
. It wasn't something planned, I just happened to run into it on a design site, liked it and bought it.
In October, my critique partners finished critiquing the novel Broken People and the companion short story collection The Nightingale Circus, and the final drafts were quickly done. I hired an editor for the novel and a proofreader for the short story collection. The editing process went smoothly and didn't take overly long. The cover art, however, was a different story. Both illustrations took several extra weeks to be completed, which forced me to delay my plans, and what should have been a double release turned into two separate releases more than a month apart. If I didn't like the results, I would still be ranting about it. I paid for all this with the earnings made from formatting books all summer.
This time, I didn't organize a blog tour. I sent to my newsletter subscribers one of the short stories from
The Nightingale Circus
collection and asked them who wanted an ARC. I also offered ARCs to reviewers who enjoyed my other books. Reviews started to trickle in. For the cover reveal of
Broken People
, I created a Goodreads event and invited my Goodreads friends. Then I used a
Thunderclap campaign
to spread the word about the new release. I can't honestly say either of them were overly helpful.
Another new thing I tried was making
Broken People
exclusive to Kindle via KDP Select and also have it included in the Kindle Unlimited program, which makes it free for the Kindle Unlimited subscribers. So far, I don't see any downloads via KU, but it's still early.
While waiting for
The Nightingale Circus
to be ready, I started
serializing
The Impaler's Revenge
on Wattpad. A new chapter is posted every Monday, Wednesday, and Friday. It didn't get many comments, but it did get read since it entered top 200 in Vampire category. Wattpad is full of vampire stories, so it's not too bad.
The Nightingale Circus was a quiet release, only announced on my blog and social media and accompanied by the usual LibraryThing giveaway. I guess the reviewers were relieved to finally have a cover to associate to the review and a place where to post it other than Goodreads.
It was time for another email blast sent to the newsletter subscribers, announcing the new releases and the upcoming
KDP Select free days
on Amazon. On a really short notice, I scheduled them for December 25 and 26. I have nothing to compare the results to, but
Broken People
reached #2 in Cyberpunk category in Amazon Free Top 100 in US, entered top 10 in multiple categories in all of the other countries, and it was #600 in Free Kindle Store. At the end of the two days, there were 800 downloads, including some in the countries where I had few or no sales before that, and
The Nightingale Circus
sold too.
Bottom of line, it was a good year. The sales doubled each year compared to the previous one, so I must be doing something right. For now, enjoy reading the Broken People series. I'll start working on a new installment in the series soon.