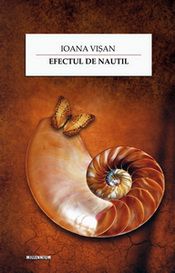 My Romanian short story collection "Efectul de nautil" (The Nautilus Effect) has been in the making for over four years… only that I didn't know it. When I was interviewed by SRSFF after winning the Cititor SF Award 2009 for my debut story "Inghetul" (Freeze), I was asked about my plans for the future. I remember answering something about maybe a short story collection, and also that I was in no hurry. The first statement was a lie, I had absolutely no plans for a short story collection because I didn't feel ready to publish anything at the time, but you know, I had to say something. The second statement was true, though, as I was indeed in no hurry.
So here we are four years later, and I have a book about to hit the shelves and waiting to be launched. To be honest, I don't feel like I have much merit in making it happen. I mean even if no one read or enjoyed my stories, I would still be writing, but apparently people do, enough to keep an eye on my doings. Imagine my surprise when last year around Easter I received an e-mail from Michael Haulica, asking me if I didn't want to gather my stories in a book. My first reaction was 'no way, I have not nearly enough material for a book!' But then I took a look at my files and realized he was right. I did have enough stories to make a book. Incidentally, 350 pages is the ideal length for a book as far as I am concerned, but of course I had no idea how long it would be when I put the stories together.
Over the past few years, I frequently published stories in several on-line magazines and a few anthologies too. The stories already available in print were not included in the selection, and some of the other stories didn't make the cut because I wanted to have some new material too. In the end, I settled for twenty titles, five of which were new. Among them you'll find Cititor SF Award 2009 winner "Inghetul" (Freeze), AtelierKult 2010 contest second place winner "Din lipsa de Timp" (In Lack of Time), AtelierKult 2012 contest winner "Un zambet de milioane" (A Millions Worth Smile), and Helion 2012 contest second place winner "O familie de sclipiciosi" (A Sparkling Family).
The book is a mixture of sci fi and fantasy with a bit of action, horror, comedy and romance thrown in between. My favorite story? It's a tossup between "La distanta de un lift" (An Elevator Apart), "Camuflaj" (Camouflage) and "Navigand prin ceata" (Navigating through Fog). And why "Efectul de nautil" (The Nautilus Effect)? Well, first because it has a nice ring to it (the story itself is supposed to be my answer to Neil Gaiman's Stardust as it features my own glowing girl in a completely different setting), and second, because it hints at my literary debut in Nautilus Magazine. And it looks cool on the cover!
Of course, none of these would have been possible if Mr. Haulica hadn't been responsible with my on-line debut in Nautilus, then my debut in print in the second AtelierKult anthology, and now my debut with my own book. So a lot of the credit goes to him for believing in me and paying attention when I wasn't.